How often do you hear companies say that they "reimagine", "rediscover", "redefine", and "rebuild" an industry? And what does this really mean? In today's hi-tech world, only an actual digital transformation can drive drastic and meaningful development for your business.
Digital transformation is more than digitization or digitalization. Breaking it down to terminology, digitization is the converting of a physical object into its digital representation. For example, a paper letter is turned into a PDF file. Obviously, this is the oldest and the most exploited method for improving and speeding up all types of work operations. Later on, digitalization steps in by modifying business processes and running them via software. While digitization is a predisposition for digitalization, it is digitalization that increases efficiency and productivity. However, it still doesn't replace processes, it only translates them from one shape or format to another. The real change-maker is the digital transformation or creating entirely new processes based on advanced technology, different customer needs, and growing capabilities expectations. This is an evolutionary movement forward that doesn't happen overnight but it's going to deliver long-lasting results and achievements.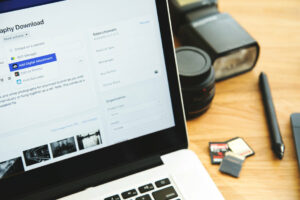 Recently, digitalization became the norm and a requirement for all spheres of life including business. Digital transformation, on the other side, is not mandatory but it's an investment worth bidding on
According to Accenture's research "Make the Leap, Take the Lead", leading companies in enterprise technology were growing two times faster than most companies, and by doubling down on their tech investments lately, they are now growing five times faster:
"Leaders harness key cloud technologies, including AI, to outpace their peers. They adopt innovative technology sooner and reinvest more frequently. And they direct their IT budgets toward innovation. The benefits are more revenue and more growth—and the ability to stay ahead of the curve."
Your priorities
Suposedly, you're willing to jump up and embrace digital transformation. Keep in mind that there are multiple different aspects of this exciting transition. Consider which one is critical for your business, start from there and then scale including other areas of innovation in the mix. For example, if you're a SAAS company, your IT infrastructure would understandably be your top priority and the field in which you have to demonstrate you're leading the way. Alternatively, if you're a marketing consultancy agency, you will rely on technology that performs data analytics, automation, content planning, etc. Those are two quite differing concepts.
Optimization is a key goal for every organization regardless of the industry type and the market it operates on. And yet, digital transformation takes an enormous amount of time and energy. Therefore, the best approach is to go step by step and pick the area which is most relevant. Harvard Business Review points out four main areas of digital transformation, calling them The Four Pillars: IT uplift, digitizing operations, digital marketing, and new ventures. Which one is a good starting point for your business? Which one follows?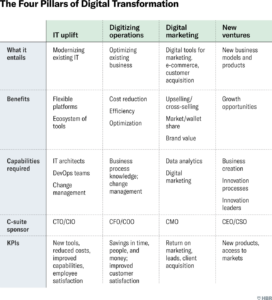 Ideally, you succeed in all of these niches sooner or later and that's when the digital transformation of your company will be working at full speed. But before that, prepare your action plan!
Digital transformation action plan
Business assessment – As we mentioned earlier, you need to have a crystal clear vision of what is your business all about and where you want to be. Be honest about your shortcomings and then set the stage for fulfilling your potential. Think big but start small. For example, if you decide to move all your existing data to a cloud, begin with the basics such as employees' files and payroll.
Market research – Do your homework and find out how your competitors have been doing so far. Have they invested efforts in digital transformation and what are their accomplishments? Remember your target audience as well – today everything is customer-centric so whatever you change, should be for the benefit of the buyer. If your deliverables don't enhance customer experience, they might not be useful in the end.
Team – Before you hire experienced professionals, your C-level team should be advanced technologically. The innovation mindset should travel from the top management all the way to the entry position. Preferably, use kanban tools and adopt agile methodology in order to fully embrace the digital transformation challenge.
Roadmap – Follow clear guidelines and set milestones for your company. The more deadlines you put for yourself, the more motivated and accountable you will remain.
KPI – After knowing your objectives and which aspect of digital transformation you will emphasize, specify how are you going to measure your success.
Funding – Let's face it, digital transformation is a long and costly operation. Plan your budget in advance and make sure you can afford the change.
Data – Don't forget that you're only ready to make the leap to digitally transform your business if all your files and company information is completely digitized. Focus on this condition before you begin the process.
Now that you have taken the decision to be on top of your game, make sure you've eliminated all possible threats and obstacles. Or at least most of them. They say the cobbler's children walk barefoot but you can play it smart. When you strive to be the trailblazer, you should give an example and be immaculate technology-wise. Finally, don't leave your digital assets exposed and prevent cyber incidents by choosing a reliable and all-round digital protection solution.
…
Read more interesting content on our blog and follow us on Facebook and LinkedIn.