Many entrepreneurs fall into the trap of completely taking over recruiting and HR operations. CEOs of small companies, in particular, kickstart their businesses as eternal learners who can advance at any skill, and as a result, they decide to become their own HRs. This approach couldn't be any more wrong. Especially young projects need a well-rounded HR strategy more than everything else.
A clear structure in your People department is key to scaling your business. Skipping this step, on the other hand, is a guarantee for headaches caused by miscommunicated expectations and responsibilities. Moreover, if you don't start nurturing a culture early, it will eventually grow out with or without you. The problem is that it might not be the one you have wished for.
Planning an HR strategy might seem like a daunting task but here's a thing – we want to prove to you the opposite! Take part in our challenge and let's see what you need for building up your HR department in just two weeks.
Where to start
As the term human resources suggest, you'll need people first. But instead of headhunting or spending countless hours reviewing applications, invest in your most significant employee – your company's People Manager. According to popular statistics, a start-up owner can spend 40% of their working day doing tasks that generate no income, such as payroll, hiring, and HR tasks. So, if you're that type of owner, learn to delegate.
Once you have found the head of the HR department, it's time to onboard him. Share your goals and explain in detail where and how you'd love to thrive. Don't try to look better than you actually do – reveal to your People Manager where your company's strengths are but also give hints on what areas you can improve. Ideally, at a later stage, gaps will be filled with talent.
The toughest mission standing in front of the first member of your HR department is to establish structure. This person will decide how to organize all departments that your business needs. Of course, he will need your help in this quest so sketch out all activities that are essential for the progress of your company. Don't be intimidated, this is a creative and centering assignment and you will certainly find it very helpful. Actually, you may even discover a treasure trove during the course of this discussion.
Compliance
Being in sync with the law is the main reason a lot of companies create an HR department in the first place. You can't escape from it. Make sure your HR manager hires an employee who is going to know all legal requirements.
Now that you have experts in the best labor practices, ask them to design the work policy of your company. The policy should include onboarding and offboarding procedures, an internal code of conduct, recruiting processes, work contracts specification, benefits, and payroll.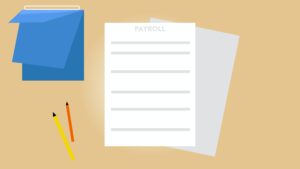 Apparently, there are multiple types of compliance – regulatory, contractual, union law, training, and even HR technology compliance. To ensure you haven't missed a bead, better be smart and make a checklist.
People Development
You might not have all the people you need on your team yet but you should already start preparing their development plan. Yes, even before they're hired. Attracting ambitious and experienced employees is just half of the job. They also need training and motivation that is at a constant high level. Therefore, consider implementing measurements for tracking your team's performance both short-term and long-term.
Today's world is slightly different than, let's say, the previous century. Baby Boomers used to stay at the same job for 10 years and more, while the main workforce of the present, the Millenials, don't exceed an average of four years at a workplace. In fact, this number will only go down from now on. If you've been browsing through CVs nowadays, you must have noticed there are plenty of job hoppers out there. Nothing's wrong with that but if you're fostering a supportive culture and striving to win your employees' loyalty and dedication, you're probably hoping that they'll stick around. A nice tactic to keep them is letting them grow and improve in the direction they would like to. For this purpose, your HR department has to plot a comprehensive career development plan for all positions. If you want to be even one step ahead, spice it up with personal growth training options.
HR Tech
Just like in any other business area, technology plays a leading role in HR operations. Most HR routine tasks including recruiting, payroll, compliance, and performance can be streamlined through software. The market for such automation is flooded and each next platform is more sophisticated than the previous one. Bamboo HR, Workable, Paycor, and SAP are only a few examples of popular tools out there.
Keeping employees' personal information intact is another aspect of HR that you should be aware of. Be mindful of hackers that target small businesses and try to compromise the data you're handling. Besides ensuring that your company complies with regulations and uses the appropriate GDPR instruments, getting a cybersecurity solution will protect you against harmful attacks.
Refinement
We already mentioned the word culture earlier and we're coming back to it because it should not be underestimated. Work culture is one thing and after setting up the previous stages, you've laid out the foundations of it. Your company's culture, though, is a different story that goes beyond work etiquette. It involves honest and open communication, as well as a bunch of other soft skills such as emotional intelligence, focus, confidence, and others. You can invest in trainings in those areas and that's wonderful but the most efficient way to teach is by personal example.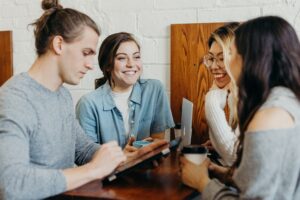 Understandably, it's sometimes hard to tuck kindness into a hectic schedule, however, don't spare it. Slack in this avenue might cost you bitterness and negativity in the future which are the last qualities you want to define your company's culture.
Employer Branding
It's only been two weeks and you've already finished with the HR fundaments of your company. That's a brave leap! There's nothing wrong with bragging about it.
Apart from your business brand, your company has a public image as an employer, and putting efforts into enhancing this impression would bring you top-notch candidates and a fantastic reputation. Go under the spotlight on social media channels like LinkedIn and on your website, then utilize newsletters and community management tools like Discord and Telegram.
…
Two weeks is not a long period of time. Naturally, some setbacks and unexpected situations might occur every now and then. We also realize that sometimes it takes longer to find your HR pioneers. And yet, once you discover them and clearly convey your vision, the rest will quickly start shaping up.
Two weeks is 14 days and 14 days present 14 astounding ways to drive success for your company and people.